3) Pizza Margherita Turns 120, Chef Domenico Crolla Thows a Party...
Chef Crolla writes:
Hi Albert,
Hope you are all well.
It's always good to share ideas-
I am having a lot of interest in a party night I am proposing at my restaurant. It may be a useful idea for you also in gaining media attention that is always invaluable in business.
I am having a charity evening on the 9th June 2009 with proceeds going to the Abruzzo fund.
This particular date is the 120th anniversary of the Pizza Margherita.
This may not seem too significant an event yet when chef Esposito in 1889 presented his new pizza creation to Queen Margherita, her approval elevated a peasant dish to new heights. The rest is history and of great cultural significance.
Graziano Bertuzzo will be on hand to demonstrate the simplicity of this wonderful pizza.
Italians and 'Italians abroad' owe much to the humble pizza, so let's drink to its continued growth around the world!
I am working closely with the BBC and some national news papers as they have shown interest in the history and anniversary of this event.
The evening will be a 'cocktail party' with pizza and champagne.
It goes without saying that you would be most welcome to join us in Glasgow!
Thank you my friend, I will help you in any way that I can to spread the word.
Here is my version of the Pizza Margherita:
The Margherita: A Royal Pizza fit for a Queen!
"Raffaele Esposito, created this pizza to honor Queen Margherita's visit to Naples in 1889. He created a special pizza which resembled the Italian flag. The pizza consisted of basil (green), mozzarella (white), and tomatoes (red). This dish sets the standard for our modern day pizza. This patriotic pizza was an instant success with the King and Queen, as well as his other patrons. He named this pizza in honor of the Queen, the Margherita."
History of Pizza by pizzatherapy.com
The taste of this dish is superb if you use buffalo mozzarella.
If not available, any whole milk or regular mozzarella will do!
Ingredients:
· Dough for 1 pizza
· 4-6 oz. of buffalo mozzarella (whole milk mozzarella is fine)
· 2-3 cloves of garlic minced
· 2-4 oz . of parmesan
· 2-4 Plum tomatoes, sliced thinly
· ¼ cup fresh basil (if available)
· salt and pepper to taste
Directions:
1. Roll out dough to desired size.
2. Drizzle olive oil on dough. Spread evenly.
3. Mince garlic and spread on dough.
4. Slice mozzarella and spread over dough
5. Spread the parmesan on the pizza
6. Evenly spread the tomatoes on the pizza\
Directions:
1. Bake at 500 degrees for 8 to 10 minutes
(preferably on a preheated pizza & baking stone. Stone should be preheated for 1 hour.)
2. After pizza is cooked, tear basil leaves and put on cooked pizza. Add other spices to taste.
Tips
· Use buffalo or whole milk mozzarella. Regular mozzarella will work.
But the buffalo mootz, (as they say in New Haven), will be fantastic!
· You can substitute ¼-½ cup of Tomato sauce for fresh tomatoes or use both!
4) Albert Grande, The Pizza Promoter: Announces Internet Consulting for Small Business
As you may know, I've been on the Internet for 10 years. I have had much success. I have always felt I could show and teach others to succeed as well.
I've decide to go use my skills to assist businesses off line to succeed on-line. I have developed many skills. I see other companies doing the exact same thing I can do. The difference is, these companies talk about doing it.
I've done it.
I have developed many Internet skills. I've put many websites on-line. I can create blogs. I can create videos. I record interviews, edit the recording and get that audio on-line. I know SEO (search engine optimization.) I know Social Media and Web 2.0. I have lots of resources and I know how to use them...
Here is a huge secret: I know the Biggest Mistake 95% of the websites are making. Correcting this mistake can mean having a profitable business website and creating a relationship with your customers.
If you don't do this, you have nothing more than a brochure on the Internet. Your website can be so much more than just a brochure. Much, much, more.
Most people who own websites do not have a clue how to change this.
I know the answer and it's not that difficult to fix. I want to help small business anyway that I can. And this one correction will make a huge impact on their on-line business.
This is kind of a leap for me. But if not now, when?
I know what I know, and in Internet Marketing, I know a lot.
Here is my new motto:
"100% of the shots you never take, don't go in..." Wayne Gretzky
I'm going for it. I greatly appreciate any support you can give me.
This is something I have thought of for a while and I'm throwing my hat in the Internet Consulting Arena. I'm starting in Hawaii, but I'm happy to help anyone to succeed on-line.
Please take a look and let me know what you think.
Here is the link:
Albert Grande, The Pizza Promoter, Consulting
Please feel free to share your thoughts, ideas, support and your positive energy:
If you know anyone in Hawaii, (or anywhere) who would be interested in my services, please let them know about me: Albert Grande, The Pizza Promoter, Consulting.
As usual: Thank you.
Remember: "100% of the shots you never take, don't go in..." Wayne Gretzky
I'm taking some shots. Wish me well.
You can follow me on Twitter:
That's all the "Pizza News!", for now...
"Pizza on Earth,
Good Will to All"

Sincerely,
Albert Grande, The Pizza Promoter
Email: webmaster@pizzatherapy.com

Back Issues of Pizza News can be accessed at:
The Pizza News Archives

For additional pizza business resources, please visit our
Pizza Business Page!

My newest websites: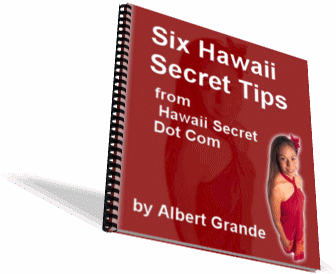 Get Valuable Hawaii Secrets:
Subscribe to Hawaii Secrets.
Click HERE

http://hawaiisecret.info
(A Hawaii Vacation Site, please go there and comment!)
http://bimwah.net
(The Weird, the Unusual, The Strange...)
http://bimwah.net


Hawaii Secret Dot Com
LawofReciprocity.info

My latest blog: albertgrande.com

Subscribe to my newsletter
Pizza News for free
and I'll will send you a copy of my
famous pizza dough recipe!

Your name and address will never ever be shared with anyone,
or sold, for any price! Ever.